Who is an orthodontist?
Orthodontists are specialists in the field of dentistry who diagnose and treat irregularities of the teeth, face, and jaw, including misalignment and incorrect positioning or spacing of the teeth. Using specialized treatment options, including braces and a variety of other oral appliances, we correct these conditions.
What are braces?
Dental braces are devices used by an orthodontist for straightening or moving your teeth, to improve how they look.
Braces work by putting pressure on the teeth, to slowly move them in the right direction. As the pressure takes effect, the bone in the jaw changes to allow the teeth and their roots to move.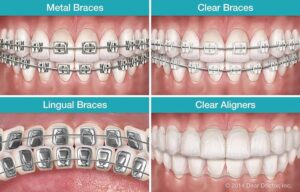 What are the different type of braces?
There are several different types of braces to choose from, including:
1. Traditional metal braces
They consist of metal brackets and wires and this is what most people picture when they hear the word "braces." However, modern brackets are smaller and less noticeable than the notorious "metal-mouth" braces that many adults remember. Plus, new heat-activated archwires use your body heat to help teeth move more quickly and less painfully than in the past.
2. Ceramic braces
Ceramic braces are the same size and shape as metal braces, except that they have tooth-colored or clear brackets that blend in to teeth & make it less noticeable.
3. Self-ligating braces
Self-ligating braces are more comfortable than traditional braces. Less pressure and friction are placed on the tooth.
4. Invisible braces
Invisible braces consists of a series of 18 to 30 custom-made, mouth guard-like clear plastic aligners. The aligners are removable and are replaced every 2 weeks.
Do braces hurt?
Braces are designed to be comfortable and do not often hurt, though you may feel a small amount of discomfort for a couple days as your teeth, gums, cheeks, and mouth get used to your new braces.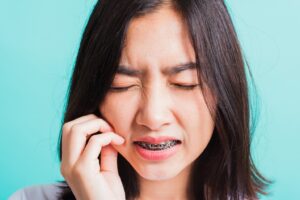 How do we know if we require Orthodontic treatment?
When your teeth are misaligned, crowded, or not meeting properly when you bite down or smile, it is difficult to feel confident. Orthodontic treatment not only allows your teeth to function properly, but enhances your smile, which in turn enhances your self-image and how others see you. Additionally, when teeth are aligned correctly, they are easier to keep clean, which is a simple way to improve your overall health.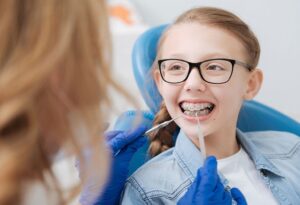 How do I know if my child needs orthodontic treatment?
It is usually difficult for you to determine if treatment is necessary because there are many problems that can occur even though the front teeth look straight. Also, there are some problems that look intimidating and complex which will resolve on their own. Asking your general dentist is good reference, but we are your best resource since orthodontics is all we do. We would be more than happy to see your child and make any recommendations necessary.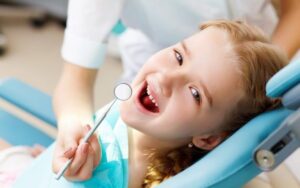 Do children have to wait until they turn 12years, to start orthodontic treatment?
No, Some orthodontic problems are significant enough that they require early intervention. Most orthodontists start fixed orthodontic treatment around the age of 10-12 because that is when all your permanent set of teeth erupts. However, if a patient is not yet ready for orthodontic treatment, we will follow that patient's growth and development until the time is right for treatment to begin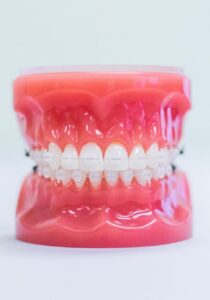 Is it too late to have braces if I'm an adult?
Approximately 35% of all orthodontic patients are adults. Health, happiness, and self-esteem are vitally important no matter what age you are, so no patient is "too old" to wear braces.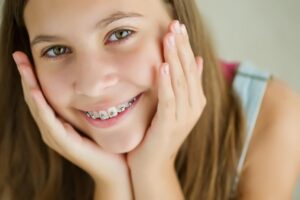 What's the best age to visit the orthodontist?
If you want to improve the look and feel of your smile, then any age can be a great time to see the orthodontist. The American Association of Orthodontists recommends that children first visit an orthodontist around the age of seven; however, orthodontic treatment is not exclusive to children and teens.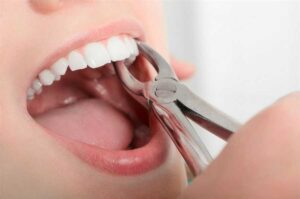 Will I need to have teeth extracted?
Every course of orthodontic treatment needs to be tailored to the needs of the individual patient. In some patients, adults as well as young people, extractions are necessary to align crowded teeth or correct the bite. The extraction spaces are closed up during treatment so that there are no gaps left at the end. Whereas with latest advancement in braces, we can avoid extraction in most cases these days.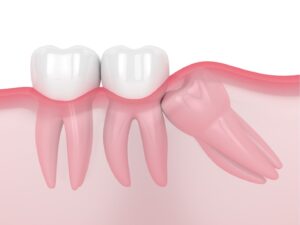 How will I know if I need teeth extracted?
Much depends on the problem which needs correcting. A decision can only be reached on the basis of a detailed case assessment by your dentist or orthodontist. For some patients, in order to get the best appearance and long-term stable result, extractions will be part of a gold standard plan.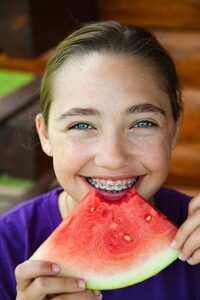 Are there foods that one cannot eat while undergoing braces treatment?
Yes. Once treatment begins, we will provide complete instructions and a comprehensive list of foods to avoid that may cause harm to your braces. In general, you should try to avoid foods that could damage, break, or become trapped in your braces. Some of these foods include raw fruits/vegetables that aren't cut into small pieces, hard candy, toffee, pop corn, pizza crust, ice cubes, and nuts.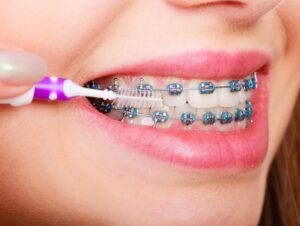 How often do we brush your teeth when you have braces?
You will need to brush 2-3 times a day with a fluoridated tooth paste for atleast 3-4 minutes. In addition you will have to rinse your mouth with a mouthwash preferably after every meal.
By:
Orthodontist – Al HILAL HOSPITAL