AL HILAL HEALTHCARE GROUP
Al Hilal Hospital Company BSC © JCI accredited is the largest and fastest growing chain of private healthcare provider in the Kingdom of Bahrain with 7 branches. The first branch of Al Hilal was established on 16th November 2005 with an objective of providing quality healthcare at an affordable price in Kingdom of Bahrain. It is managed by Badr Al Samaa Group of Hospitals and Polyclinic, a well-established group of hospitals in the Sultanate of Oman.
The tagline of Al Hilal Healthcare group is Accessible, Available, Affordable. The hospital and medical  centers operate 24 hours and 7 days a week, with the mission to restore, maintain and enhance health by providing superior care. Al Hilal healthcare group is committed to provide high quality healthcare services at affordable price to the people of Kingdom of Bahrain by a combination of superior medical technology and excellent clinical services. It's vision is to be the largest healthcare service provider in the region by catering to the needy at the most affordable rates.
Al Hilal Hospital Company is a 50 bedded Multi-Specialty healthcare facility located in Muharraq. Being located close to the major highways and the airport, the hospital is reachable and accessible for patients coming from any area. Currently the group has expanded to four Multi-Specialty Medical Centers in Manama, Riffa, Salmabad,Hidd, Hamad Town and Askar. The group has also the upcoming projects in other locations of bahrain.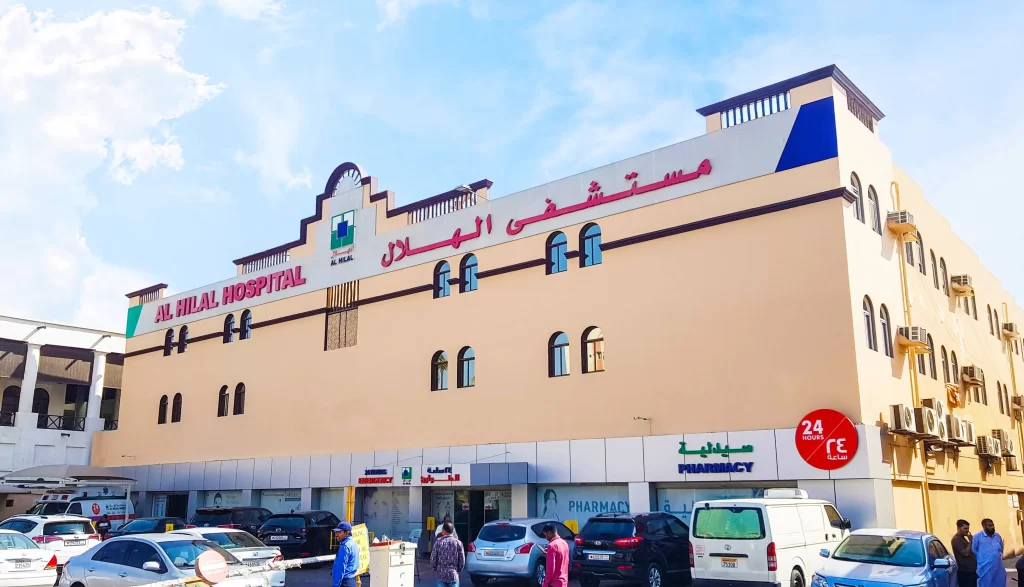 The hospital provides specialized out-patient as well as in-patient care with a range of super specialty healthcare services in the domain of Neurology, Cardiology, Urology, Anaesthesia, General Surgery, Obstetrics and Gynaecology, ENT, Ophthalmology, Orthopedics, Pediatrics, Radiology, Gastroenterology, General Medicine, Internal Medicine, Dermatology and Cosmetology, Dentistry, Orthodontics, Oral and Maxillo Facial Surgery.  The hospital's services are supported by the finest diagnostic and outpatient treatment services that use the latest technology.
The hospital is equipped with state-of-the-art accident and emergency wing providing 24 hours service, 6 bedded centrally monitored ICU, two operation theaters with 8 bedded male and female recovery rooms (Post Operative Room), full-fledged labor theater with recovery beds and baby care unit, 1 minor operation theater and modernized x-ray, ultrasound (4D), and 24 hours laboratory unit, pharmacy and emergency.
Al Hilal has more than 200 Doctors at round the clock, specialty clinics working from 7 AM to 11 PM even on Fridays and other public holidays. The hospital provides services like MRI, CT, Mammogram and Advanced Diagnostic Services at affordable prices. The other major surgeries provided includes Laparoscopic Surgery, General Surgery, Gynaecology Surgery, Laser Stone Removal, ENT Surgery and Joint Replacement Surgery.
Milestones
2005- Nov- Al Hilal Hospital(BSC) Launched.
2006- June- First Hospital at Muharraq Launched.
2007- Dec – First Super Speciality Urology Clinic & Operation Theatre Established.
2009- June -20 In-Patient Beds Added.
2010- Dec- Pre Ramadan Health Check-up Camp.
2012- Feb- Cardiology and Cardiac ICU Established.
2012- Oct- " Come back to Good Health" 23000 Lives Served Free of Cost.
2013- Aug- Pre Ramadan Health Check-up Camp Launched.
2014- Feb- 2nd Branch- Al Hilal Multi-Specialty Medical Centre- Riffa Launched.
2015- Apr- Vitamin-D Screening Served 5500 Bahraini.
2016- Jun- 10th Year- Closed Served 1 Million Lives.
2016- Aug- Joint Commission International (JCI) Accreditation for both Muharraq and Riffa Branches.
2018- Mar- Launch of Latest Generation 1.5 T MRI at Muharraq.
2018- Apr- 3rd Branch- Al Hilal Multi-Specialty Medical Centre- Manama launched.
2018- Nov- 4th Branch-Al Hilal Multi-Specialty Medical Centre- Salmabad Launched.
2019- Sep – JCI Re-Accreditation – Muharraq
2019 – Feb – 5th Branch – Al Hilal Multi-specialty Medical Centre – Askar Launched
2020- May- Launched Private Isolation Centers for Covid patients in Bahrain
2021 – June Launched Traveler Quarantine Facility during pandemic
2021- Jan- NHRA Accreditation
2022- Oct – JCI Re-Accreditation – Muharraq
2023- Feb 6th Branch Launch Al Hilal Multi Specialty Medical Center- Hamad Town
2023- April – 7th Branch Launch-Al Hilal Multi Specialty medical Center- Hidd
Upcoming Projects:
Launch of 8th Branch – Al Hilal Multi Specialty Medical Center – Sitra