Operation Theatre Complex (SURGICAL CENTER)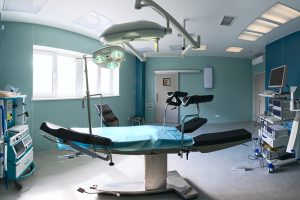 Two full-fledged operation theatres with integrated theatre Sterilization unit and 4 bedded male and female recovery rooms, instrumentation and state of the art medical equipment make the Operation Theatre Complex of the hospital. Headed by an organized team of Anesthesiologists and Nurses and Technicians, the complex performs various specialty surgeries.
The department is equipped with the latest array if systems including Anesthesia units, Multi-use operating tables, the latestLaparoscopy system, Electrocautery, C-Arm System, Holmium laser system, Ureteroscopy system, ENT Surgical Microscope, Autoclave, Ultrasonic cleaning system, Surgical instrument sets, Ventilators, Patient Monitors, Defibrillators and Bed units. The Department has well-established controls and uses the latest materials and surgical tools for a safe surgery for each patient.
The Operation Theatre provides for advanced surgeries like
Minimal Access Surgery
Laparoscopic Surgery
Laser Ureteroscopic Surgery
Bladder Tumor Surgery
Endoscopic/Microscopic Ear Surgeries
Endo nasal Surgery
Orthopedic Surgery/ Bone Plating
Joint Replacements
Hysterectomy